Flakpanzer 38(d) "Kugelblitz"
---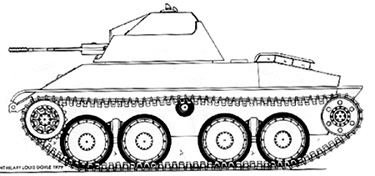 Photo from Czechoslovak Armored Fighting Vehicles 1918- 1948
---
Aside from the Panzerkampfwagen IV Ausf. J, the only other vehicle slated to carry the "Kugelblitz" ball turret was the Panzerkampfwagen 38(d). Panzerkampfwagen 38(d) was a German derivative of the venerable Czech Panzerkampfwagen 38(t). Major differences between the two versions were larger size, the new Tatra 12-cylinder air-cooled Diesel, a new drive train, and new sprockets. The 38(d) was large enough to accept the PaK 42 L/70, and it could therefore replace all tanks destroyer and anti-aircraft versions of the Panzerkampfwagen IV. It is somewhat interesting to note that by replacing the venerable Panzer IV with a version of the Panzer 38(t), Germany would have essentially been replacing one 1930's design with another.

The Panzerkampfwagen 38(d) version of the Kugelblitz was to be armed with two 2cm MK 151 cannon plus two 3cm MK103 cannon. Traverse time for the turret was a "lightning" fast 45o/sec. No prototypes were completed by war's end.
Flakpanzer 38(d) "Kugelblitz"
Crew: 4
Armament: two 2cm MK 151 cannon plus two 3cm MK103 cannon
Weight: ~16 tons tons
Traverse: 360o
Length: 5.27 meters
Elevation: unknown, most likely 0o to 90o
Width: 2.81 meters
Engine: Tatra 103
Height: >1.75 meters
Gearbox: 5 forward, 1 reverse (?)
Radio: (?)
Speed: (?)
---
Sources:
---
Back to Panzerkampfwagen 38(t) Page
---