Panther Ausf. G with IR Gunsight and Headlamp

---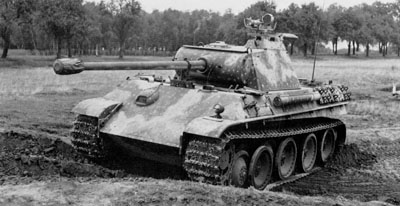 Photo from Panther and Its Variants

---
This photo shows a Panther Ausf. G equipped with the IR night-sighting device. Power for the unit was supplied by an auxiliary 400 watt generator with a built-in 12 volt battery. The technical specifications of the sight were:

Lamp power: 200 watts
Lamp diameter: 20cm
Focal length of sight: 9cm
Field of view: 30 degrees (approx.)
Magnifier: 5x
Targets could be aquired to roughly 400m, though the driver could not see more than 100m away. The range of the Panther viewer was therefore not considered adequate, so it was designed to be used in conjunction with the Uhu in groups of five tanks.


Below is a model of a Panther Ausf. G with the IR equipment. The only difference is that this Panther Ausf. G mounts the rubber-saving steel roadwheels.
---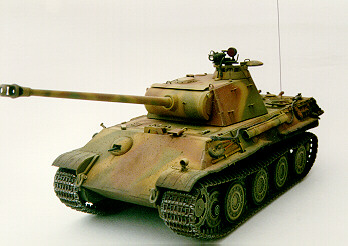 Model by John Robinson

---
Sources:
---