Land-Wasser-Schlepper
---
Model by Ontrack Models, Hong Kong.
---
River crossings in the absence of a bridge were a major challenge to the type of mobile warfare envisioned by the Germans. It was therefore necessary to develop an amphibious vehicle to tow cargo across rivers. The Land-Wasser-Schlepper was a result of a 1936 contract given to Rheinmetall-Borsig. Numerous firms were involved in the production of the vehicle, including Alkett. This 17 ton vehicle could reach speeds of 35km/hr on roads and 12km/hr in the water. The tracks were used only for movement on land. A propeller and rudder were used for aquatic movement. Even though the primary function of the vehicle was towing, 20 men could be carried.
---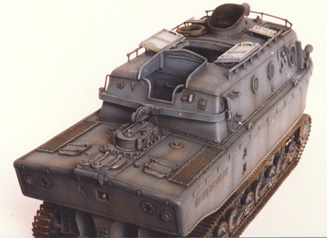 Model by Ontrack Models, Hong Kong.
---
Sources:
---
Back to Other Tracked Vehicles Page
---