Panzerkampfwagn IX and X
---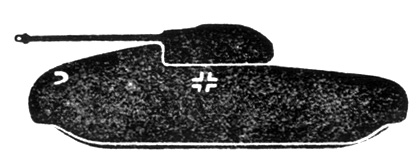 Side view of Panzerkampfwagen IX
Drawing from Maus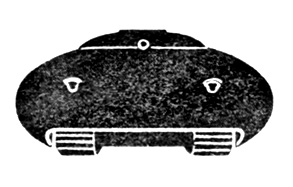 Font view of Panzerkampfwagen IX
Drawing from Maus
---
The Panzerkampfwagen IX and X never made it past the preliminary sketch phase. It is furthermore unclear exactly who designed the vehicles. For their time they were, however, very ahead of their time. It is clear that the designs were based on combat experience. Note the following features:

The turret of the Panzerkampwfagen IX is mounted behind a raised front superstructure to eliminate any shot trap.
Both vehicles have rounded and sloped armor to provide maximum protection with minimum weight.
Side protection is integrated into the vehicle rather than being mounted on external brackets, like the schützen on Panzer III's, Panzer IV's, Panthers, and Stug. III's.
The suspension is heavily protected (like modern MBT's) on both vehicles..
The turrets are rounded, especially the Panzerkampfwagen IX's) and "turtle-like." They bear a remarkable resemblance to post-war Soviet turrets.
Clearly these designs marked a radical departure from standard German tank engineering during World War II. It is also unclear exactly how large these vehicles would be. The gun in the Panzerkampfwagen IX appears to be on the order of the Panther's 7.5cm KwK 42 L/70 while the Panzerkampfwagen X's seems to be the 8.8cm KwK 43 L/71. If these assumptions are correct, these would both be large vehicles. Clearly the side skirts could not be solid because mass would become prohibitive. If one examines American tank development through the 1950's, many of the more-radical designs proposed seem to be direct descendants of these vehicles.
---

Side view of Panzerkampfwagen X
Drawing from Maus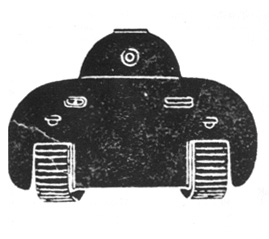 Font view of Panzerkampfwagen X
Drawing from Maus
---
Source:
Hunnicutt Firepower: A History of the American Heavy Tank
---
Back to Other Tracked Vehicles Page
---