7.5cm PaK40/4 auf Raupenschlepper, Ost (Sf)
---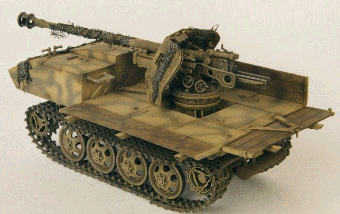 Model by John Robinson
---
As World War II progressed, it became increasingly clear that the era of towed weapons was fading. Therefore top priority was given to mounting anti-tank guns and heavy artillery on self-propelled chasses. The Germans were at the forefront of this effort creating a phenominal array of self-propelled mountings based on every chassis in their inventory. In August of 1943, the Waffenamt was approached by Steyr Werke with a proposal to mount the powerful 7.5cm PaK 40 on the RSO. The Waffenamt was favorably impressed with the idea and odered the converion of 50 vehicles.

The running gear of the RSO remains unchanged in this vehicle. The driver's compartment is replaced with a low, lightly-armored superstructure. The weapon was mounted to the frame underneath the normal RSO bed. Army Group South received several of these vehicles for troop testing in early 1944. Hitler had been so impressed with the design he ordered a full scale production plan for 1944 with the following figures:

March: 60
April: 100
May: 150
June: 200
July and afterward: 400/month
This production plan was never put into effect, and only 60 vehicles were ever completed.

7.5cm PaK40/4 auf RSO
Crew: 4
Armament: one 7.5cm PaK40/4
Weight: 5.2 tons
Traverse: 30o left 30o right (hand)
Length: 4.57 meters
Elevation: -5o +22o
Width: 1.99 meters
Engine: Steyr 3.5liter V8
Height: 2.6 meters
Gearbox: 4 forward, 1 reverse
Radio: none
Speed: 17.2 km/hr
---
Sources:
---
Back to Other Tracked Vehicles Page
---