10.5cm leFH18/1(Sf) auf Geschützwagen IVb
---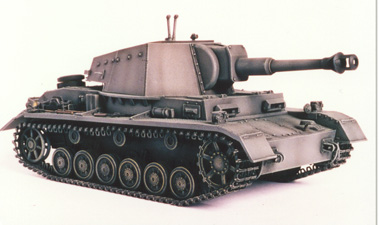 Model by Ontrack Models, Hong Kong.
---
As World War II progressed, all combatants were quickly becoming aware that the day of purely towed artillery was fading. In order to keep-up with the armored units, both infantry and artillery needed to be self- propelled. The Germans therefore made numerous attempts to mount their artillery on tracked carriages (both armored and relatively unarmored). The 10.5cm leFH18 was one of the mainstays of the Wehrmacht, and numerous proposals had been made (dating from 1941 forward) for a self-propelled variant of this weapon. Krupp took an unusual approach to the limbering of this weapon. They developed a vehicle loosely-based on Panzer IV components with a smaller engine. The vehicle only had three bogie mounts per side, rather than the traditional four found on the Panzerkampfwagen IV, and the road wheels were larger. Instead of a fixed superstructure, the vehicle was equipped with a partially traversing turret.

Ultimately, the Panzerkampfwagen II was used as the basis for mounting the 10.5cm leFH18, creating the Wespe. Krupp attempted unsuccessfully to have their vehicle utilized as the basis of the Jagdpanzer IV, but this failed as well.

10.5cm leFH18/1(Sf) auf Geschützwagen IVb
Crew: 4
Armament: One 10.5cm leFH18/1 L/28
Weight: 17 tons
Traverse: 70o (hand)
Length: 5.9 meters
Elevation: -10o to +40o
Width: 2.87 meters
Engine: Maybach HL66P or Maybach HL90
Height: 2.25 meters
Gearbox: 6 forward, 1 reverse
Radio: FuGSpr f
Speed: 45 km/hr
---
Sources:
---
---