Brückenleger IV
---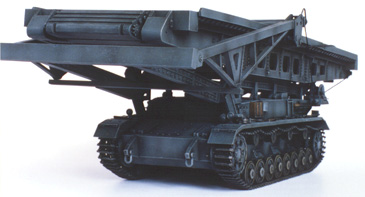 Model by Ontrack Models, Hong Kong.
---
During the planning stages before the outbreak of World War II, various methods of dealing with fixed fortifications were explored. One necessary vehicle, in the eyes of the Wehrmacht, was a bridge-layer. Early development projects were based on the Panzer I and Panzer II. The small size of these vehicles, however, sharply limited their utility. After good results had been obtained from experiments with a mild steel prototype, it was decided that a bridge-layer would be built on the Panzerkampfwagen IV. A total of four Ausf. C and 16 Ausf. D were converted into Brückenleger.

The bridge-layers were issued to the bridging platoons of the Panzer Divisions starting in March of 1940. During the campaigns in 1940, the Brückenleger served with the 1st, 2nd, 3rd, 5th and 10th Panzer Divisions. Production orders for an additional 48 bridge-layers were placed, but following the campaign in France and the Low Countries led to the cancellation of all further production. All of the vehicles were converted back into gun tanks by May of 1941.

Brückenleger IV
Crew: 2
Armament: One 7.92mm MG34
Weight: 28 tons
Traverse: hand
Length: 11 meters
Elevation: N/A
Width: 3.0 meters
Engine: Maybach HL 120TRM
Height: 3.54 meters (Krupp vehicles), 3.28 meters (Magirus vehicles)
Gearbox: 6 forward, 1 reverse (electric)
Radio: FuG5
Speed: 40 km/hr
---
Sources:
---
---