Leichte Flakpanzer IV (3cm), 'Kugelblitz'
---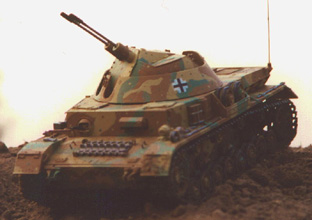 Model by Thomas Hartwig, Bremen Germany.
---
Late in the war, it was clear that any German ground operations would require an effective measure of anti-aircraft protection as the Allies on both fronts had total or near-total air superiority. Current Flakpanzers were only moderately effective in combatting the marauding fighter-bombers. As early as April 1944, the possibility of mounting a 3cm Doppelflak 303 (Dual AA Mount) on a Panzer IV had been discussed. The gun mount was similar to one proposed for use on U-boats. Rheinmetall and Diamler-Benz undertook the development of the system, and owing to the deteriorating war condition, a production order was placed in September 1944. Production of both the Panzer IV chassis and the Panzer III/IV chassis (Hummel and Nashorn) was scheduled to end in mid-1944, and therefore an order was also placed for a Kugleblitz based on the Panzer 38(d) chassis.

There is some controversy regarding the exact modifications made to the Panzer IV chassis and superstructure to create the Kugelblitz. All references agree that the turret-race from a Tiger was fitted (with its 1.9m diameter) to accomodate the ball-turret. The disagreement lies in the modification of the superstructure. Some sources indicate that no modification was made to the superstructure, others seem to indicate that the superstructure roof was leveled and the hatches for the driver and hull machine gunner were moved.

Only two prototypes on the Panzer IV chassis were completed before te end of the war. They were delivered in February 1945. Because of the deteriorating war condition, it is likely that the order to cancel production of the Panzer IV chassis was rescended as plans called for 30 Kugelblitz per month to be built on the Pazner IV chassis starting in March 1945.

---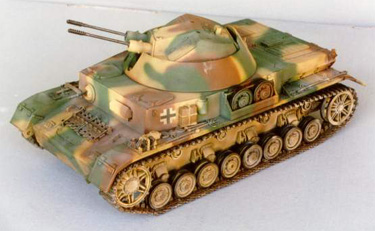 Model by Matt Ward.
---
Leichte Flakpanzer IV, Kugelblitz
Crew: 5
Armament: Two 3cm MK 103/38, one 7.92mm MG34
Weight: 25 tons
Traverse: 360o (mechanical)
Length: 5.92 meters
Elevation: -5o +70o
Width: 2.95 meters
Engine: Maybach HL 120TRM112
Height: 2.3
Gearbox: 6 forward, 1 reverse (electric)
Radio: FuG5 + FuG2
Speed: 38 km/hr
---
Model by Matt Ward.
---
Sources:
---
---